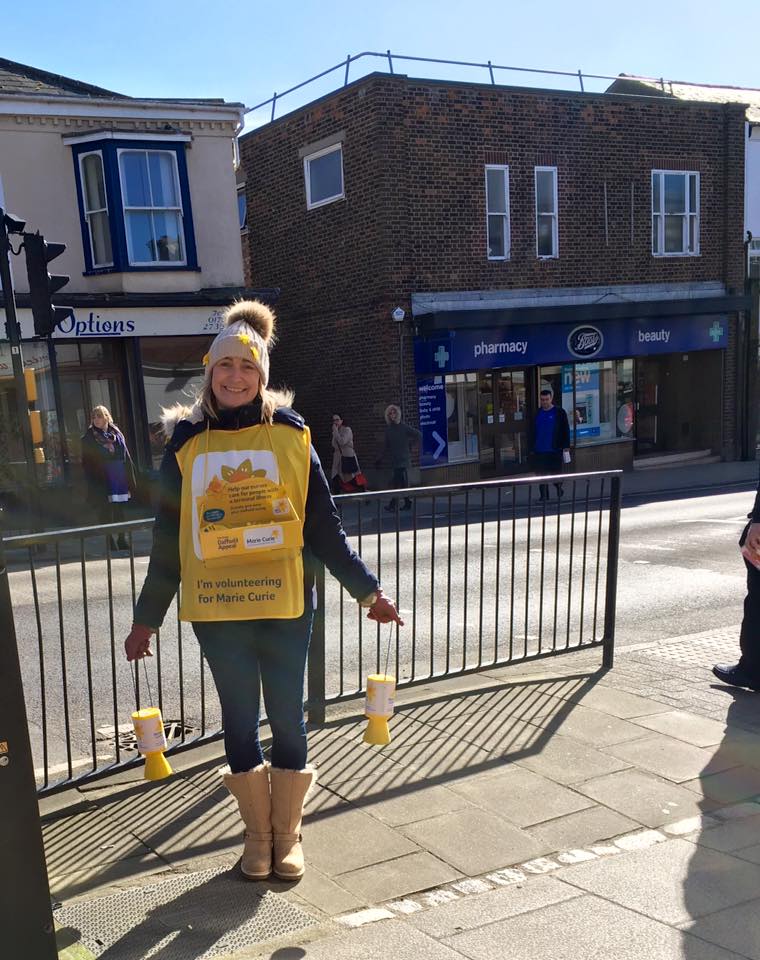 This year, instead of standing in a street with a collection tin to raise money for charity, I wanted to do something a little more challenging.
A group of friends were planning to complete the London Moonwalk, so I decided to join them.
The Moonwalk is a 26.2-mile walk through London, starting before midnight and walking into the early hours of the morning.
Training.
Yes, this is not the hardest challenge out there, but we have to be realistic. Firstly, we have to schedule the training plan around our lives, us ladies have families, kids to pick up from school, hours at work, businesses to run and we should mention our husbands who like to see us occasionally too! We followed a training plan which involved three walks per week including one longer walk, steadily increasing our mileage to a 20-mile training session and we managed a steady speed of 16-minute miles.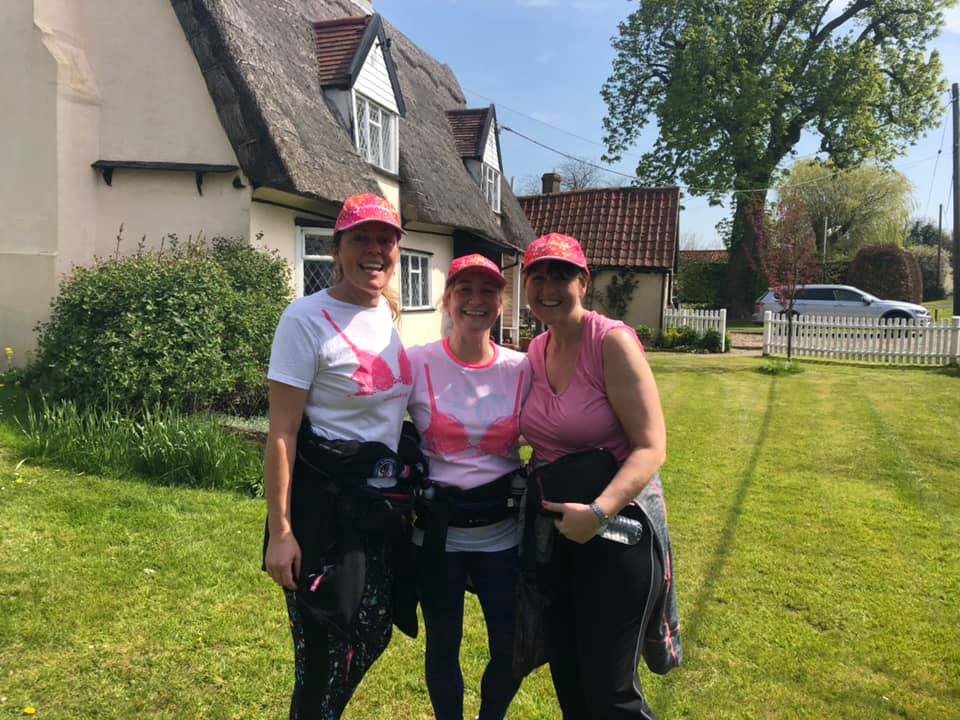 We walked over 240 miles in 12 weeks. Every one of us had aches and pains, blisters and bruises, but the determination to be well prepared for the night kept us going.
On the night, we left Clapham common at 10.45pm. We had been raring to go all day, but the start was slow. We ambled along with 1000s of other participants. Trying to find space, not wanting to bump into each other or trip up. For the first mile, people are waving out of their windows and cars are tooting their horns. It's quite a carnival and feels very surreal.
Just keep walking…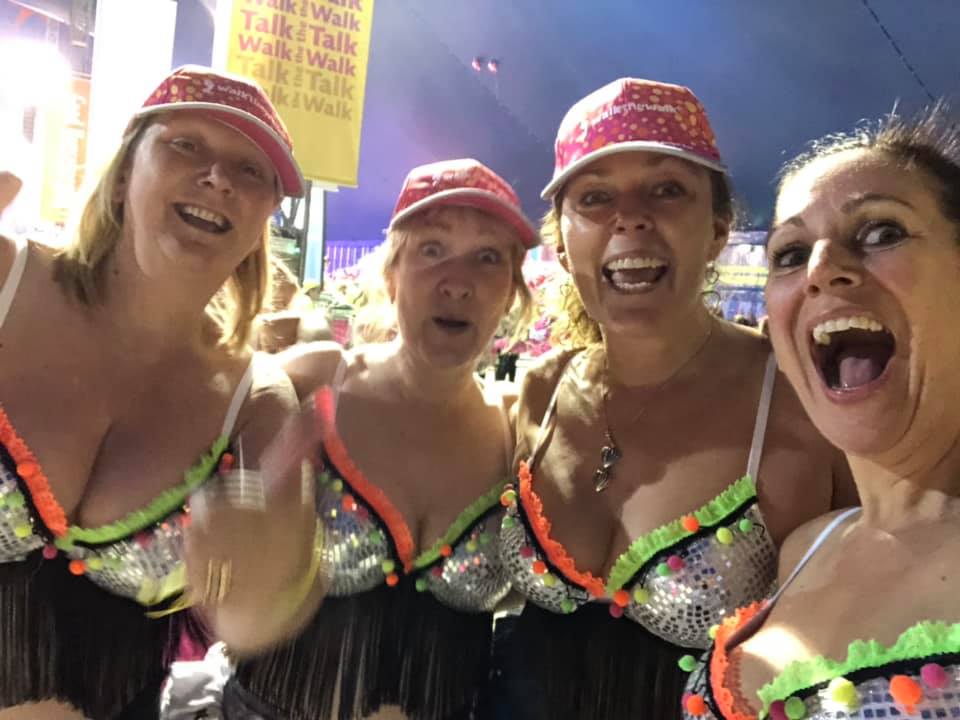 It is dark! Sounds silly, but we hadn't trained in the dark and in some places, there are no lights. So, you just walk following people who have put LEDs on their outfit. You are hoping that there are no trip hazards or things to slip in!
Dancing over Tower Bridge
After a while, the carnival atmosphere subsides and you just have to keep on walking and walking. We walked for eight hours. Receiving phone calls and text messages from friends and family, it really helped to know that people were thinking of us. Playing music to keep us going, we found that people liked walking with us as the rhythm really helps you keep those feet moving. We danced over Tower Bridge and the Tower of London watched us "Don't Blame it on the boogie".
"Good Morning!"
At 1.30am, I wasn't amused by people saying "Good Morning", thinking 'but, I haven't been to bed yet'! I am not one for late nights and I felt cold and starting to feel tired.
After a while, there is not much to look at, all you can think about it getting to the end. Your muscles are aching. Your legs are so used to the same repetitive movement that stepping up kerbs becomes difficult. You don't want to stop, because it hurts to start again. If someone drops something we all groan, nobody really wants to bend down!
Then at 4.30am, the birds started singing and the rising sun was a real energy boost. I have never stayed awake all night before and I have to say, it was amazing. In reality, we still had another two hours to go, but it felt like the end was in sight.
The Finish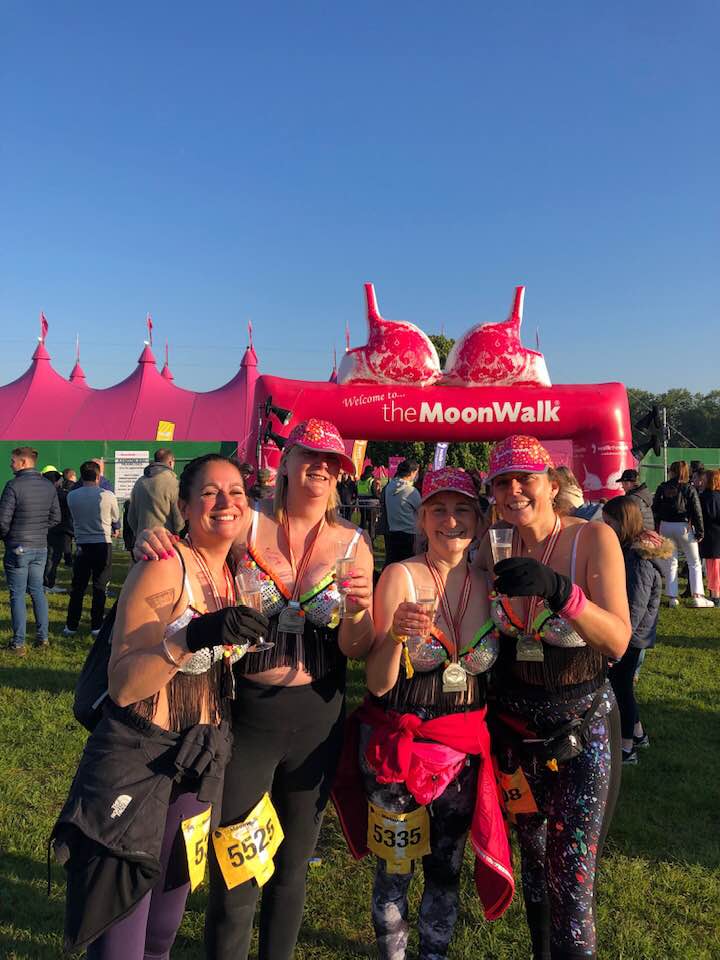 At 6.45am we crossed the finish line. There is no big fanfare at the end, we just walked through an inflatable pink bra! You do have a marvellous inner sense of achievement. A wonderful pride you feel for your team. Also, feeling overwhelmed by all the amazing people that helped make such a wonderful event possible.
Taking part in this challenge was really good fun, working with friends towards a common goal is exhilarating.
It may just be a long walk, but it means so much more. We completed the training, we worked as a team and supported each other.
Such wonderful camaraderie really is a great boost for your soul. Thank you ladies x x x
The good news: so far I have raised
£200 for St Helena Hospice.
£404 +gift aid for Walk the Walk.
A massive heartfelt thank you to everyone who contributed.